Palm Friday...no meat, so we decided on a nice smoked salmon dinner. Sockeye Salmon was on sale for half price a couple weeks ago so I picked up a few filets.
Here is the one we're brining and smoking today. Rinse and dry first...beautiful color. Looks real fresh.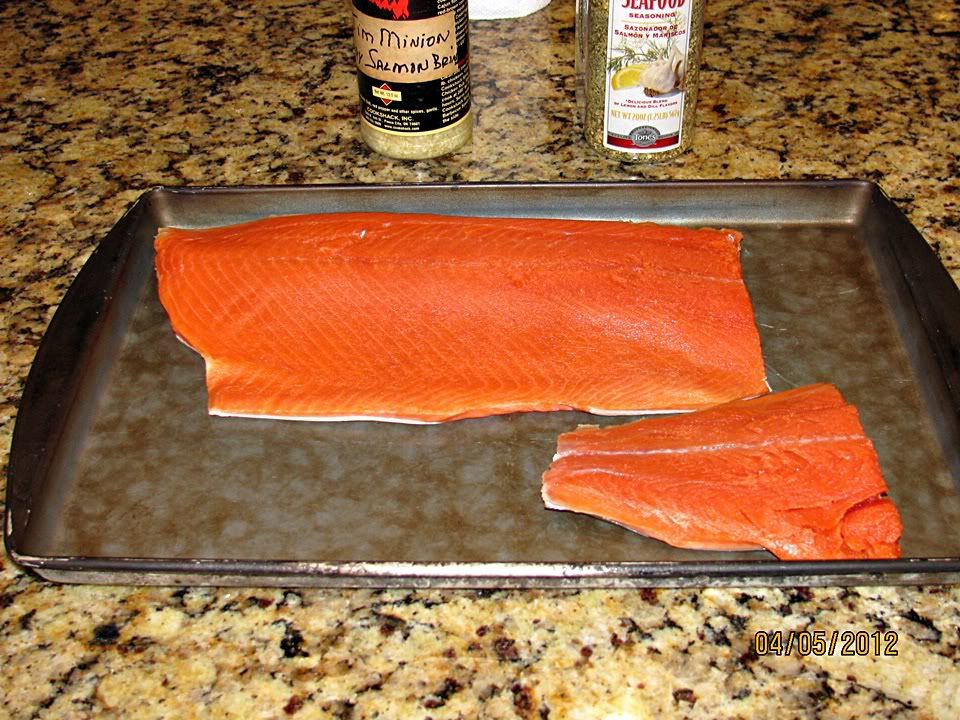 I've had luck with the Cardog's Award Winning Dry Brine recipe provided by Tom from our forum, so I went with it. Besides the dry brine was already prepared and waiting for me.
Dry Brine Recipe
1 C light brown or turbinado sugar (I used turbinado)
1 T dill weed
1 C non-iodized salt
1 T summer savory
3 T granulated garlic
2 t tarragon
3 T granulated onion
I increased this recipe by 50% to have some available for future use.
Mix all ingredients and pack on the flesh side of the filet.
Here is the Sockeye with the dry brine on it just before it's visit to the refrigerator.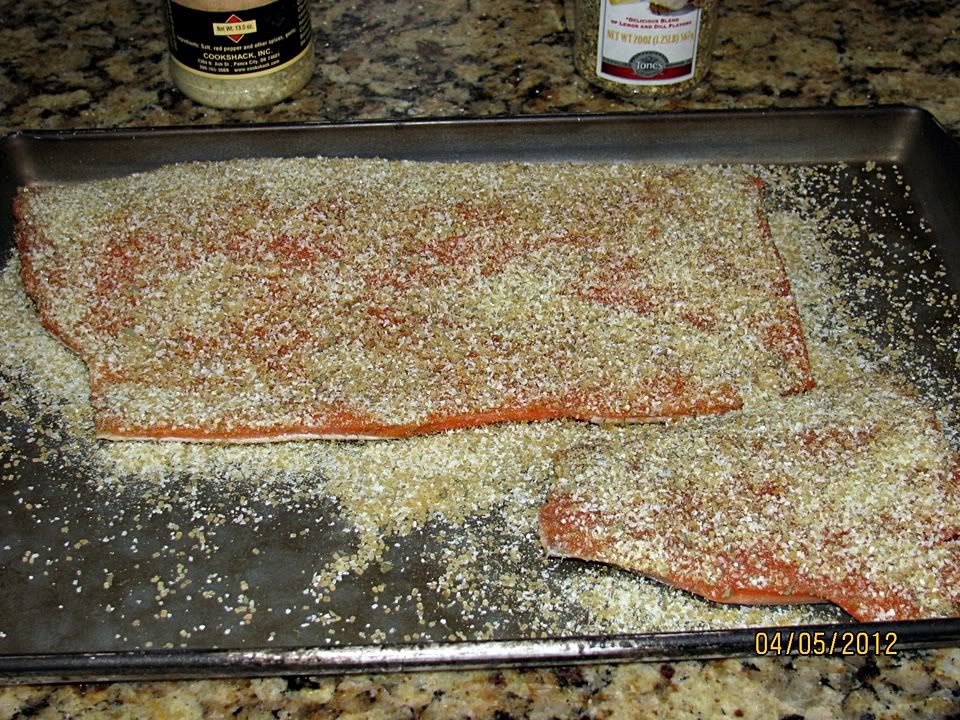 After 4.5 hrs brining, remove the salmon and thoroughly rinse it under cold running water. Dry it and then let the salmon air dry in order to form the pellicle.
Here is the salmon after one hr. on a rack airing. A thing of beauty.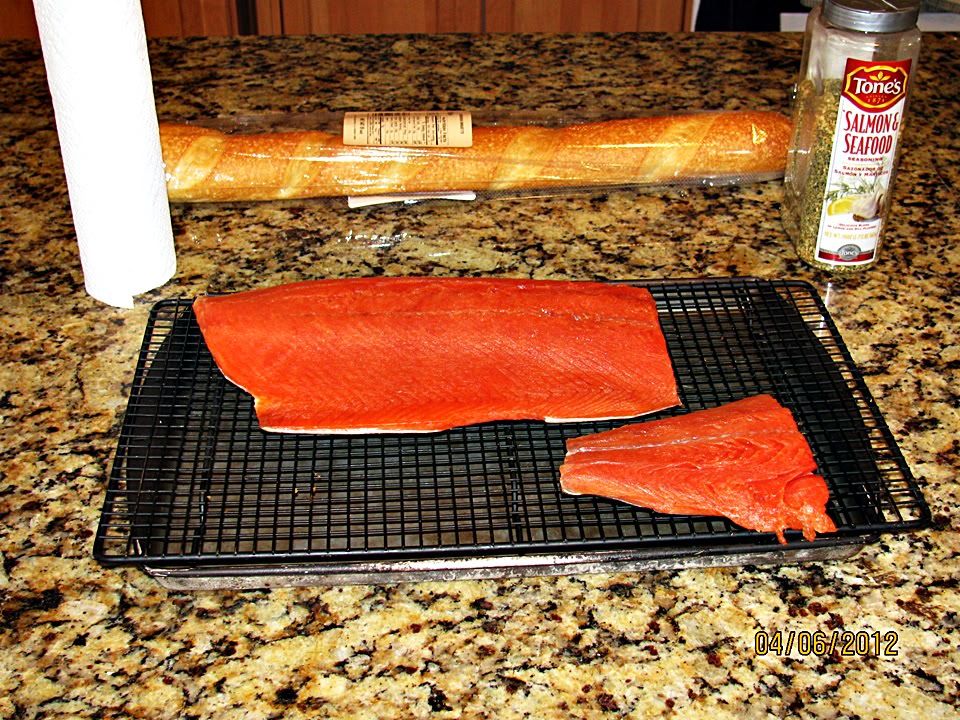 After allowing 1 hr for the pellicle to form, I sprinkled the Sockeye liberally with Tones Salmon and Seafood Seasoning and then threw it into a 210* preheated smoker. Probably could have gone a bit longer to form the pellicle better, but it was tacky, and I was short on time. I used 3 oz of white oak and smoked the salmon for 1.25 hrs, pulling it from the smoker with an internal of 135*.
Here she is ready to eat...no icky white salmon oil leaking from the flesh, thanks to forming the pellicle.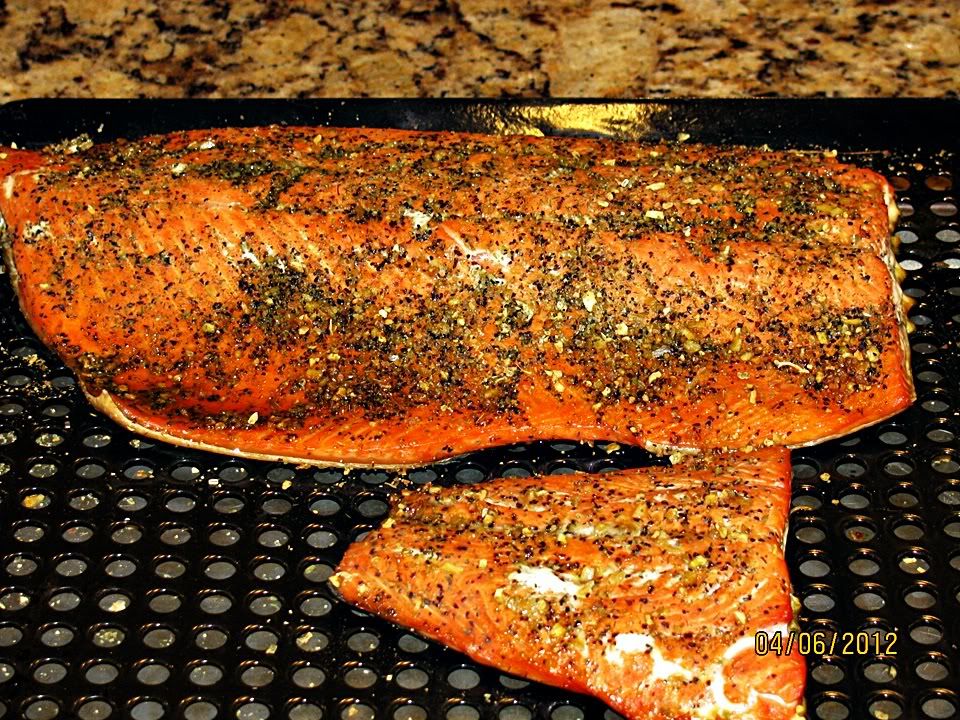 It turned out very well. Moist, tasty, light smoke flavor. Left over sockeye salmon goes into tomorrow's Smoked Sockeye Salmon Caesar Salad.