Here's a meatloaf recipe I modified a bit from The Smoking Pit barbecue site. 4.5 lbs. of ground beef mixed with bacon, medium cheddar cheese, Ketchup, BBQ sauce, spices and Worcestershire. Smoked low & slow with hickory.
Get your cooker pre-heating to 250 degrees, add a couple chunks of hickory. Cook 9 strips of sliced bacon. Once the bacon is crisp, crumble it as we will mix it into the meat later on.
In a medium mixing bowl combine the following ingredients:
4 Eggs
1/2 Cup Ketchup
1/2 Cup BBQ sauce (your call)
1/2 Cup Worcestershire Sauce
1 Tsp. Black Pepper
1 Tbsp. Minced Garlic
Mix the ingredients thoroughly.
Place 4.5 lbs. of 90/10 ground beef into a large mixing bowl. Using your fingers poke holes into the meat. This allows the egg mixture to be mixed in with ease. Next pour the egg mixture over the meat. Thoroughly mix the liquid into the meat. At this point the mixture will be quite moist waiting for the solid ingredients.
Mix the following ingredients in a medium bowl:
1 Cup Chopped Red Onion
2 Cups Shredded Medium Cheddar
1 Cup Italian Bread Crumbs
The crumbled bacon
Pour over and thoroughly mix the ingredients into the beef mixture. Place the meat on aluminum foil and form one large meatloaf. Once the meatloaf is formed carefully place a greased smoking rack on top of the meatloaf. Flip meatloaf onto greased rack. Reshape the meatloaf. Squeeze on some BBQ sauce (I used Famous Dave's Sweet and Tangy...not very tangy). Coat the top and sides.
Here's a picture of the meatloaf waiting for it's smoke bath.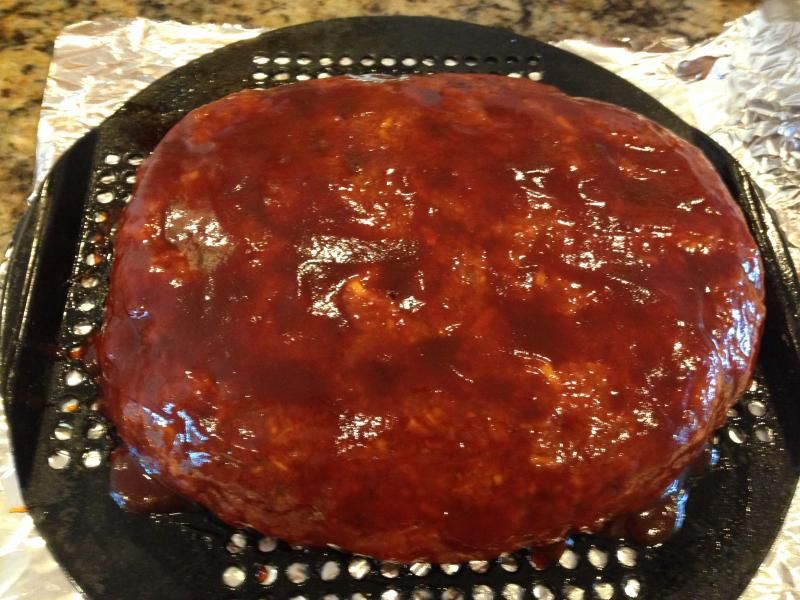 Place the meatloaf's near the center of your smoker. The smoker should be pre-heated to 250 degrees. Pull the meatloaf when the internal temperature reaches 160 degrees, about 2 hr. Let stand covered 15-20 minutes. Once rested, slice and serve.
Here's pictures of the finished work of art: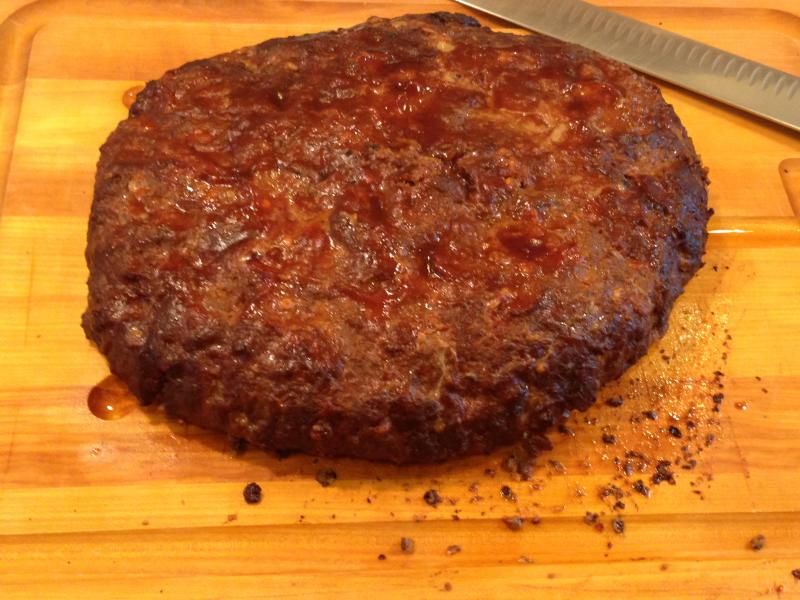 The meatloaf was smokey, flavorful and moist. Delicious. I'd call it tender, but I've never eaten a tough meatloaf.
My family loved it and are now looking forward to meatloaf sandwiches. The bacon flavor seemed to be lost in this recipe so next time I'll double the amount of bacon.
This is a very easy recipe to make and requires little preparation time. Meatloaf sandwiches tonight...meatloaf lightly grilled in butter.
Picture quality could be a tad better using my Canon, but the pictures automatically download to my computer using my IPhone. So easy, can't pass it up.