Silly me, I was buying bags of naan in a produce store, but after making it at home I'll never go back !! It's dirt easy and sooo good. I'm including a 2nd recipe at the end for a cucumber/onion salad in a yoghurt dressing. We made baked talapia sandwiches on naan with the cucumber/onion salad over the top of the fish. AMAZING !! Enjoy
Mis en place:
1 1/2 tsp active yeast
1 tsp sugar
1 cup warm buttermilk
3 Tbls yoghurt
6 tbls melted butter or cooking oil
3 cups all purpose flour
1 tsp salt
Preparation:
In a mixing cup combine yeast, sugar, warm buttermilk and yoghurt - mix well. Cover and let rest for about 10 minutes until yeast has frothed. Meanwhile combine flour, salt and 3 tbls butter or oil in large mixing bowl. Once yeast mixture has frothed slowly add it to the flour in bits while swirling flour into the center of the bowl creating a sticky dough. Work dough in bowl by folding one edge over and punching it down with your closed fist, rotate bowl a quarter turn and repeat. Knead dough like this about 4 minutes. Now spread a little oil over the dough and cover, I put mine in a large plastic storage container with a snap on lid. Let dough rest and rise about 90 minutes. It should double in bulk.
Take dough, roll on a floured surface into a long log and break into 8 equal balls. Flour your rolling surface and roll each ball into a large "pancake". Place as many of these pancakes on a baking sheet lined with parchment paper and brush a little butter onto each pancake, cover with a damp towel and let these proof about 1/2 hour - they will puff up nicely. Heat a large heavy cast iron skillet on the stove and when it's screaming hot place your first pancake on there. When moving from the sheet pan stretch the edges of the dough just via the weight of the pancake (ever see a pizza parlor do that to dough, like that). Heat about 3 minutes until they puff, flip over with a spatula and heat other side another couple minutes. This will make your kitchen kinda smoky so open a window and start the exhaust fan - this is serious cooking worth the aggravation !! Remove from pan, brush a little butter on them. Repeat process until all the naan are made. Store them in a covered container until you serve them. Obviously they are best when served warm, so if you refrigerate them and want to make a sandwich with warm naan just start one of your gas burners and plop it right on the burner griddle - flip with a spatula or tongs after about a minute so both sides get a little seared. SOOOOOO GOOD.
Some folks puree up a little garlic or onion and mix it into the dough. Whatever you do you will be rewarded with a fragrant and delicious bread.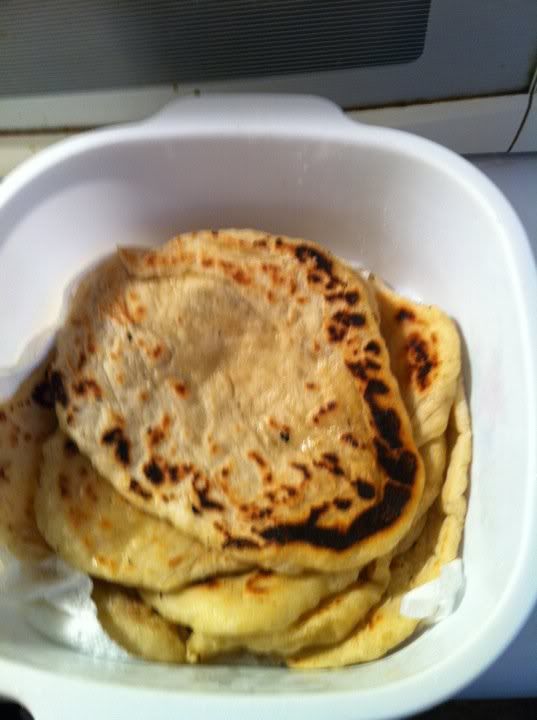 Cucumber/Onion Salad
Mis en place:
1 large cucumber, rough peeled and sliced down it's length, then cut in thin slices
1/3 large vidalia onion cut in thin slices
1/2 cup yoghurt
3 Tbls rice wine vinegar
pinch each of corriander and cumin seeds
1/2 tsp seasoning salt
Preparation:
Combine all ingredients in a mixing bowl. Stir well, place in a smaller presentation bowl and refrigerate at least 1/2 hour before serving. Serve as a garnish with a curry or over fish or chicken on as a naan sandwich (see photo).
Baked talapia filet (Costco) on homemade naan with cucumber/onion salad over the talapia. Eaten as a sandwich this was divine.