I was recently given this large cushaw squash; nearly 9.5 lbs. Being unfamiliar with cushaw I checked the web and found it is a winter squash used like pumpkin in pies, soups, etc.
It is a very artistically photogenic vegetable!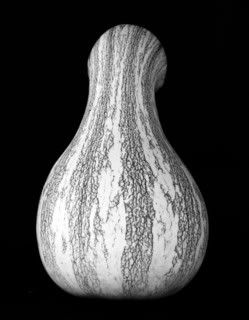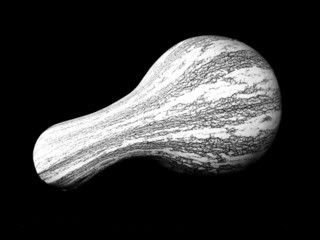 Today I decided to go ahead and cook the cushaw in the smoker; didn't want to heat up the house running the oven. Set the smoker to 250 and cooked for 3 hours without adding any wood. Did the poke test after 3 hours and it 'felt' cooked enough to me and had taken on just a bit of color. So I took it out and let it cool about 30 minutes and then cut it open.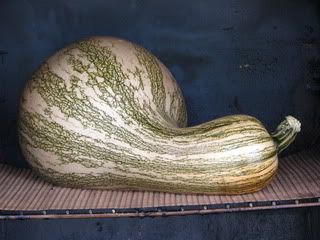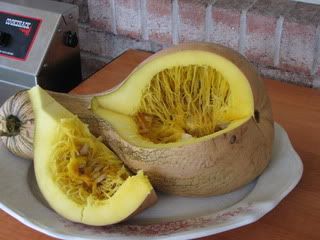 I took about a third of the cooked squash and made soup. I gently caramelized a medium large yellow onion in 2 tbsp each of olive oil and butter with just a bit of salt and pepper. After the onion was caramelized I added a large clove of garlic minced on the microplane and cooked for another couple minutes before stirring in the cushaw. Then I added enough stock to just cover and brought to a simmer for 10 minutes to let the onion and cushaw get to know each other. I then added fresh thyme and more salt and pepper to taste. At this time I took the stick blender to the pot and pureed the soup. I then stirred in about a half cup of heavy cream.
Ladled out a cup, topped with a bit of cream, grated just a touch of nutmeg, a twist of black pepper and smoked salt, and topped it off with toasted tuscan bread.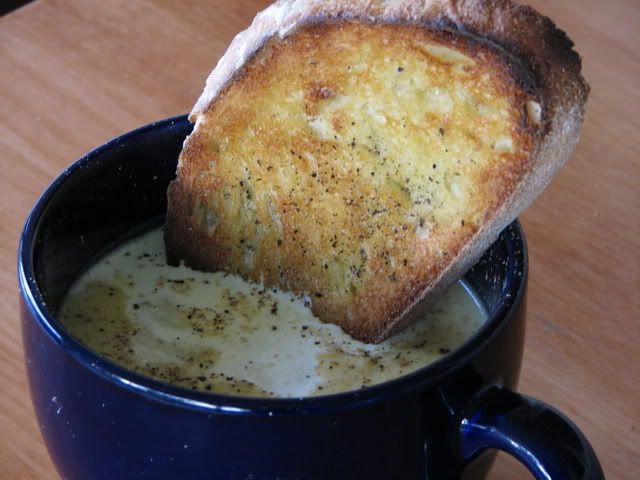 Turned our very tasty and light. Yum!