I am new around here (been lurking for a while)One of my favorite things to do is Jerky and up until now have been very frustrated with my CS smoker trying to make jerky. These are great smokers for any type of meat that you don't want to be dry, like prime rib, turkey, etc. In fact the best smoked turkey I have ever tasted was my trial run with this smoker this year. Hands down bar none THE BEST!!
Which brings me to this post. Jerky is DRIED MEAT!!
I have read hundreds of posts here and on other sites trying to learn about Jerky and I know there are a lot of different ways to do it. I don't want to offend any one here and I am by no means an expert, I just want to share what I know and how I came to this knowledge.
To start off with, most of my batches run about 10 lbs of meat. (I see that most here do about half that) But I can manage to stuff 10 lbs worth in my Smokette, they say bigger is better right?? Anyway, batch after batch was coming out marginal at best. Embarrassingly I made better jerky in my big chief smoker than I could make with this.
I see a lot of people running temps from 180 to over 200, every thing I have learned about jerky is that if it is over 150 you are cooking NOT drying it, which makes sense. I have tried 140 to 200 and about the only difference what how fast it got "done". At 140-150 my 10 lb batch would take 18-24 hrs, at 200 it would take 6-8 hrs. The meat would go from red to gray, to dark brown almost black. I tried opening the door a few times to let the moisture out and check the meat only to find water running down the sides of the smoker and dripping off the door. Threw all these trials I never had a batch of jerky that was good. By good I mean the kind that you just cant stay out of each piece leaves you wanting more! It was ok for a snack but a bag would last on the counter for a few days before we finished it off. What I am after is the kind that once the bag is open, its constantly calling your name to come back for more.
Anyway I started trying to come up with ways to dry the meat instead of steam all the flavor out if it (which is what this smoker is good at). Strangely after I had all of what I am about to explain here figured out and done, I read a post about how Smoken Tex (the not so cheap CS knock off) came up with a "Jerky dryer attachment" But HOLY COW they want $100 for it!
More on this Dryer see post :
http://forum.cookshack.com/eve...21013824/m/891104094
In order to dry the meat, you need air flow to remove the moisture, a lot more than the natural convection that happens threw the small vent holes at the top and bottom. A few pictures are worth a thousand words here, Here is what I started with and I will explain what not to do as we go.
To start off with I drilled 4 extra holes in the bottom of the smoker (NOT NEEDED DONT DO THIS)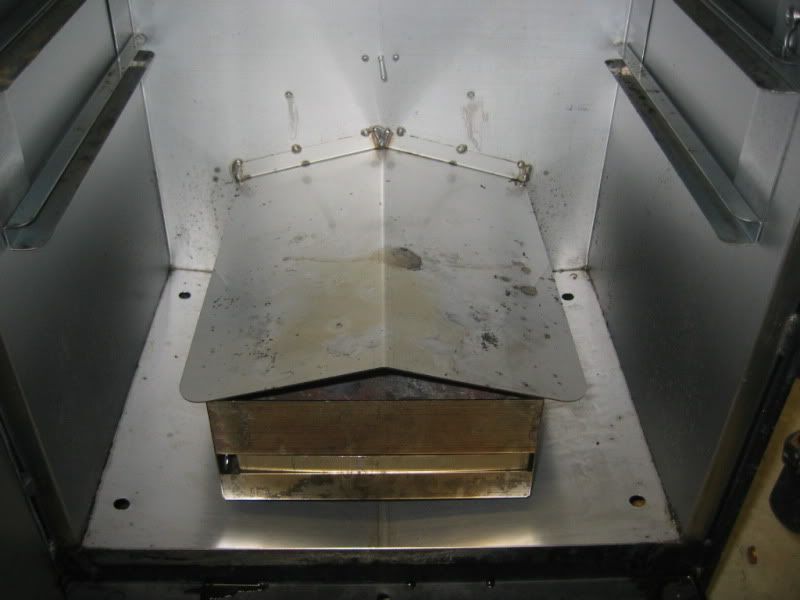 Planning on using these metal plugs to cap the holes off when I want to return to normal smoking mode. Again SKIP THIS STEP IT IS NOT NEEDED.
I found a 4" inline duct fan it is designed to help increase air flow in heating ducts that are a long ways away from the furnace in a house. These can be found at Home Depot or probably most other home improvement stores Google DB204 to find it. Next I bought a light dimmer switch thinking it would help me control the fan speed and make it adjustable (DON'T WASTE THE MONEY ON A SWITCH LIKE THIS ITS NOT WORTH IT) it doesn't give you much control any way. In reality a simple light switch or even no switch at all would be just fine. These parts along with the male end of an extension cord is all that is needed. This set up costs about $30 I paid more with the extra not needed items.
Link to fan:
http://www.smarthome.com/3016/...uct-Fan-DB204/p.aspx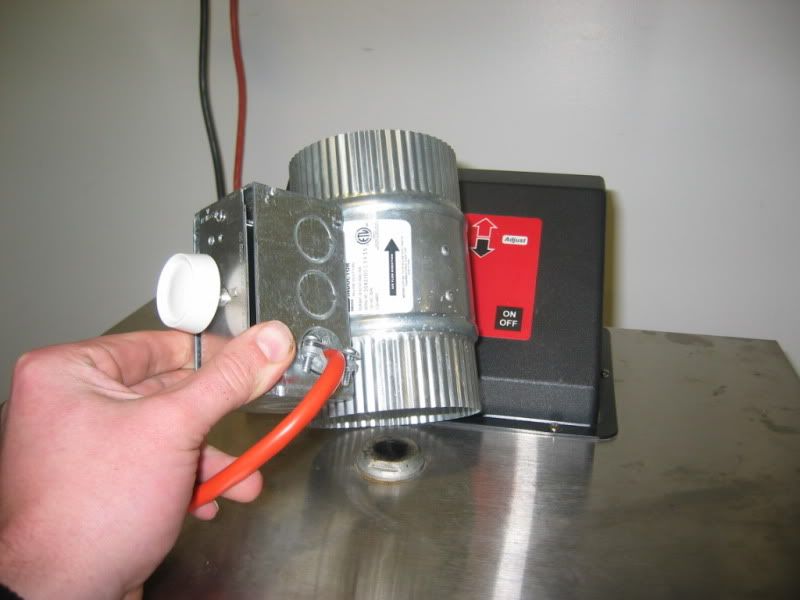 I set the smoker at 150 and after it reached temperature I set the fan over the exhaust hole, with all for new holes open the smoker would drop to 138 and never recover it would cycle the element and never climb back up to temperature, I plugged 2 of the holes, it would climb back up, but it was slow getting there. I plugged all of the holes off and it easily maintained the 150 temp that I was looking for but I was worried that it would not be enough air flow to work. I checked the progress every hour or so and never had any moisture on the walls or the door, never had any big puffs of steam when I opened the door, it was working
GREAT!
Here is what I started with, I found these 18" metal skewers at ACE hardware they are a perfect fit and will hold a lot of weight. I can get the brand name if any one would like.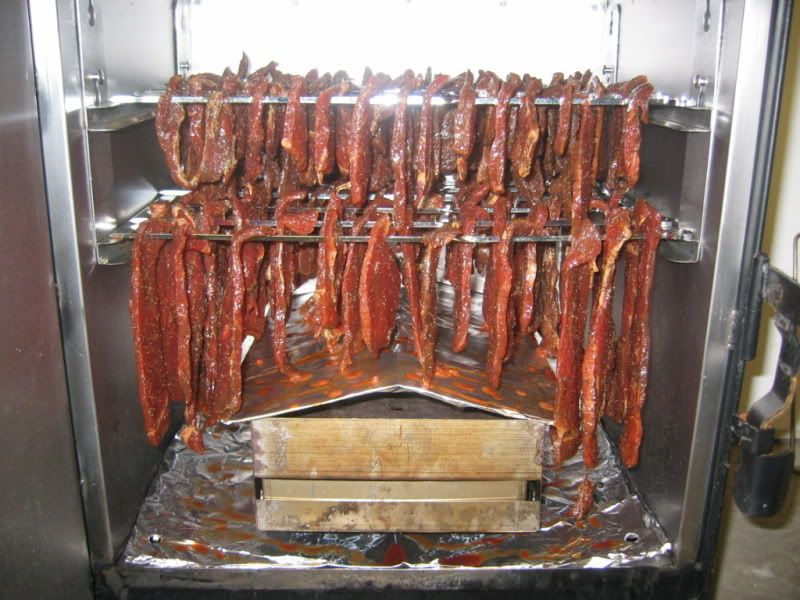 This is 10 lbs after about 8 hrs at 150, BTW I didnt use any smoke on these, I wanted to get a base line for what my cure tastes like to start with and then add smoke to the next batch.