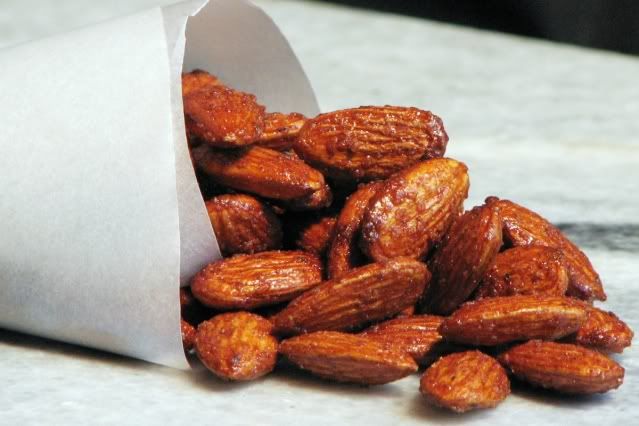 How do ya take a heart healthy
snack
and add smoked flavor, and keep it healthy. Not wanting to add any additional fats, even tho'
olive oil
is healthy, I decided to go the sweet-spicy-salty route with maple syrup
maple syrup
and
COOKSHACK Spicy Chicken Rub
.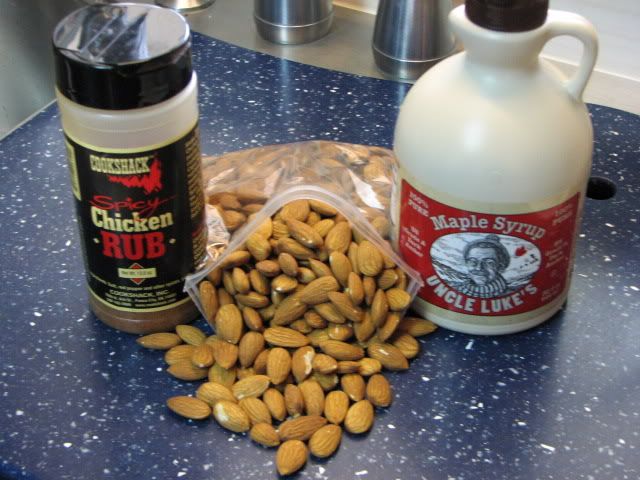 Here is my basic recipe:
Smoked Spicy Maple Almonds
1 # raw almonds with skin on
1/4 cup real maple syrup
1 TBSP COOKSHACK Spicy Chicken Rub
Heat syrup along with the rub (preferrably in a non-stick saucepan) just to a simmer and turn off the heat. Add the almonds and stir well to coat well; cool a bit in pot stirring frequently. Cooling allows more of the mix to coat the almonds. Place on your preferred implement for smoking; you can lightly oil your hands to help press into an even layer. Place almonds in prepared smoker set at 250˚ with 2 ounces of hickory (or your wood of choice). Allow to smoke for two hours.
Remove from smoker and immediately place the hot pecans in a large mixing bowl. Stir and toss in the mixing bowl for a few minutes to cool the nuts. I use my hands in this process to separate any nuts that may have become stuck together; yes it's a bit hot at first. Continue tossing and mixing the nuts until sufficiently cooled to a hard candy coating; at this point the nuts will no longer stick together. This is a process best done in dry weather as high humidity conditions can affect the hardening of the coating.
These things can be very addictive, so just remember that the daily full-dose for natural almonds is 74 grams or 2.61 ounces.
As part of this exercise I experimented with smoking on an
Exopat
to approximate the use of a foiled rack thus partially limiting smoke exposure and on a
Frogmat
to approximate use of a screen with full exposure to smoke. The taste buds like both methods equally. Texturally, however, the almonds on the Exopat have a coarse surgery finish on the 'bottoms' of the almonds, whereas those on the Frogmat have a fairly even glossy finish (hard to photograph the difference but the glossies on the left are from the Frogmat). Go with whatever cooking implement you have available; tho' I suggest using
nonstick foil
if not using silicon. For these spicy maple glazed almonds I like the Frogmats 'cause the screen does allow heat to more evenly flow resulting a nice finish and they are so easy to clean with simple dish detergent and hot water.
Bottom line: the almonds came out tasting great!