What's everyone planning to smoke for Easter? Share your plans with the group. If you'd like to share your recipe/procedure even better. Pictures...better yet.
Well. We're having Boar's Head Brown Sugar Glazed Ham (very lean), and what goes better with ham than a batch of barbecued baked beans...Pags style (notched up from Smokin's BBQ Baked Beans--a delight in its own right). I just take precooked beans, include stuff and throw it into the smoker to add that great smoke flavor.
So I thought I'd share the recipe...varied from previous submissions. I've seen more complicated recipes, but the simplicity of this one produces a great return for your effort.
1 can Bush's Baked Beans, drained (can use others like Van Camps, key is roughly 120 oz)
1/4 cup brown sugar
1/2 cup molasses
1/2 cup+ pure maple syrup (as in real maple syrup)
1/3 cup chopped onion (I rehydrated dehydrated onions)
1/2 cup BBQ sauce (I used Kinder's Mild)
1/3 cup yellow mustard (maybe a tad more)
3 TBL preminced garlic (heaping tablespoons and a little bit of the juices too)
1/2 cup Jack Daniels (take a sip to make sure it's OK)
1.5 lbs smoked pulled pork (left from previous dinner)
Here they are ready for the smoker.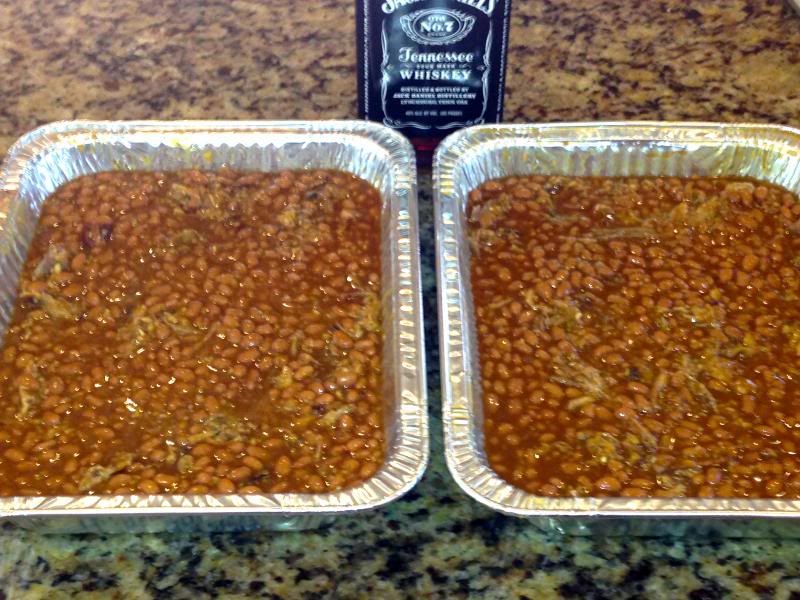 Not bad for a camera phone...IPhone, automatically synced with MacPro, drag picture to Photobucket, copy and insert image here. Couldn't be easier.
I threw all the ingredients into 2 disposable aluminum pans (one wasn't enough and 2 pans allows more smoke to get to the beans), mixed thoroughly, and into a smoker set at 200* for 4 hrs. A chunk of hickory split into 3 pieces and a pouch of hickory pellets. Mix the beans every hour. That's it.
Will add finished picture here later.
OK. It's started. Let's hear what's happening in a smoker near you this weekend.