This was originally designed to be a dessert tart and not a pizza. But I thought, "What the heck."
Fired up the FEC-100, set to 375. Placed my new pizza stone on. A friend does marble work and brought me this. It is 1-1/4 inch thick, polished, but not sealed.
Got all of the ingredients together for the topping.
and the crust
Rolled it out and slipped that bad boy on the stone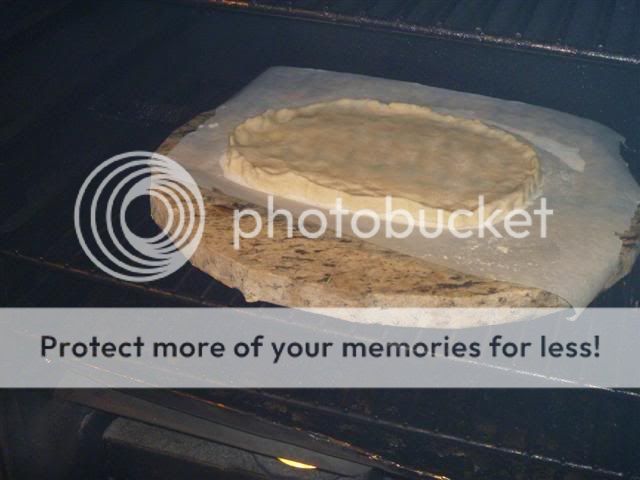 Ooops, forgot to get a temp. Looking good.
Meanwhile, I mixed up the sauce
The crust is done. Check out the smoke ring.
Let er cool and put the sauce on.
Y'all know how to slice stuff up, so I won't bore you with that.
May I present: The Finished Siete de Mayo Pizza.
Cut in half
How about a slice?
Just a little taste. Should have cleaned my finger nails. Oh well, just smoker grease.
Like I told Troy when he asked me, "What does it taste like?"
My reply, "Like Heaven with Unlimited Beer."
Thanks for lookin'. Enjoy!
Directions:
I used Sugar Cookie Dough
OR make your own
Crust:
6 tablespoons butter or margarine,
softened
1/2 cup sugar
1 egg
1/2 teaspoon vanilla extract
1/4 teaspoon almond extract
1 1/4 cups all-purpose flour
1/2 teaspoon baking powder
1/2 teaspoon salt
FILLING:
1 (8 ounce) package cream cheese,
softened
1/2 cup confectioners' sugar
2 cups sliced fresh strawberries
1 cup sugar
1/4 cup cornstarch
2 cups crushed fresh strawberries
Directions:
1. In a mixing bowl, cream butter and sugar for 2 minutes. Beat in egg and extracts. Combine flour, baking powder and salt; gradually add to creamed mixture and mix well. Cover and refrigerate for 1 hour.
2. On a floured surface, roll dough into a 13-in. circle. Transfer to an ungreased 12-in. pizza pan. Build up edges slightly. Bake at 350 degrees F for 18-22 minutes or until lightly browned. Cool completely.
3. In a mixing bowl, beat cream cheese and confectioners' sugar until smooth. Spread over crust. Arrange sliced strawberries on top.
4. In a saucepan, combine sugar, cornstarch and crushed berries until blended. Bring to a boil; cook and stir for 2 minutes or until thickened. Cool slightly. Spoon over strawberries. Refrigerate until serving.