Been enjoying Andi's Dry Brine recipe for kippered salmon for a few cooks now so thought I'd post my latest cook. I made up a batch of Andi's recipe a while back so I have it on hand when needed. Full credit for this recipe goes to Andi Flanagan of Moose Pass, Alaska. It is worth repeating so here it is:
Andi's Dry Brine
1 lb canning salt
1/2 lb brown sugar
saltpeter or cure (optional by weight of salmon)
1 tbsp white pepper
1 tbsp crushed bay leaf
1 tbsp allspice
1 tbsp clove
1 tbsp mace
maple syrup (optional)
Make sure your fish is free of any blood. Rinse fillets and coat them in the above mixture, making sure all are coated well. Cover and reef for 3-12 hours. Rinse and scrub lightly to get rid of all traces of salt. Dry with paper towels and set on your smoker racks on cans to let air circulate. Dry with a fan on them (Never in the sun) or outside in a breeze until a pellicle is formed. This can take up to 6 hours or more or less, but it is THE most important step to smoking fish. When you touch the fish, your fingers remain dry and the fish is shiny. I brush with maple syrup about halfway thru the drying time. Then smoke with hickory at 190 degrees until your fish is as dry as you want it. I go at 130 degrees w/3 oz. wood and start the smoke going before I put in my fish.
The pellicle is crucial because it holds in the moisture and fat. Have you found the white stuff coming out of your fish? That's fat. If it doesn't bother you, then have at it, but for a beautiful bronze product...the pellicle is most important. Anyway, you know you have a pellicle when you touch the flesh and don't stick to it...it's dry. Reef the fish while dry-brining
I set the AmQ to 180-190 with probe set to 130; had a separate Maverick probe set to 127. Total cook time was about an hour and a half starting with a preheated smoker and salmon right out of the fridge; time will vary depending on thickness of filet.
I first trim off the thin edges of the salmon down to get more uniform thickness (trimmings are good pan seared with a light sprinkliong of CS Spicy Chicken Rub as a chef's snack) and coat with the dry brine.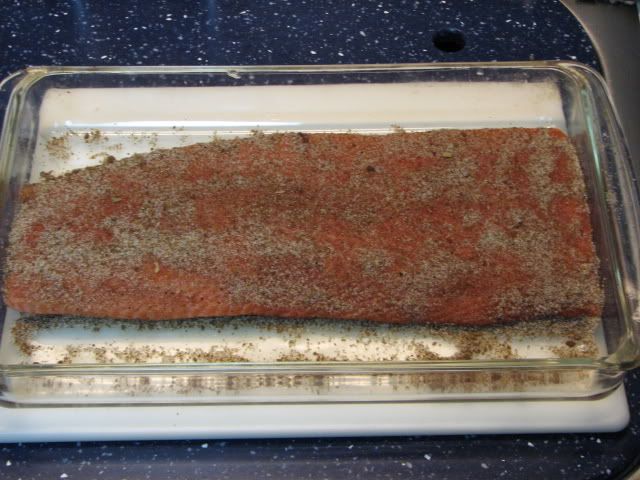 Covered salmon with plastic wrap and weighed down.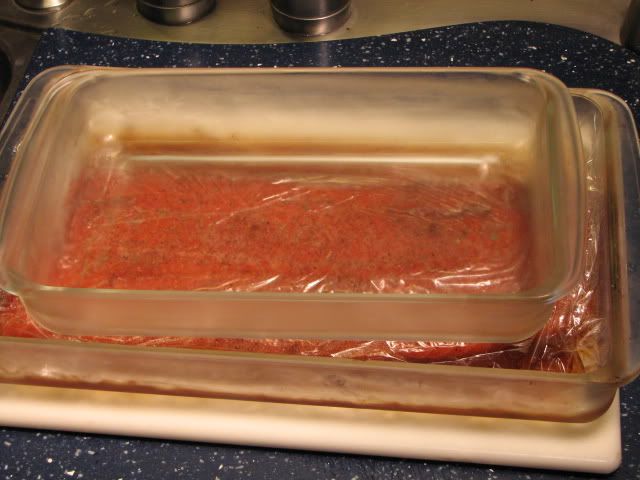 After 4 hours here are the results: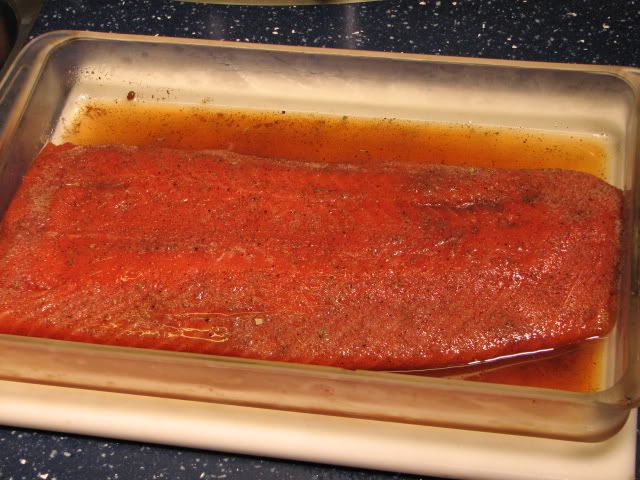 At this time I rinsed of the brine mix and dried salmon off with paper towels and placed this back in fridge to form pellicle.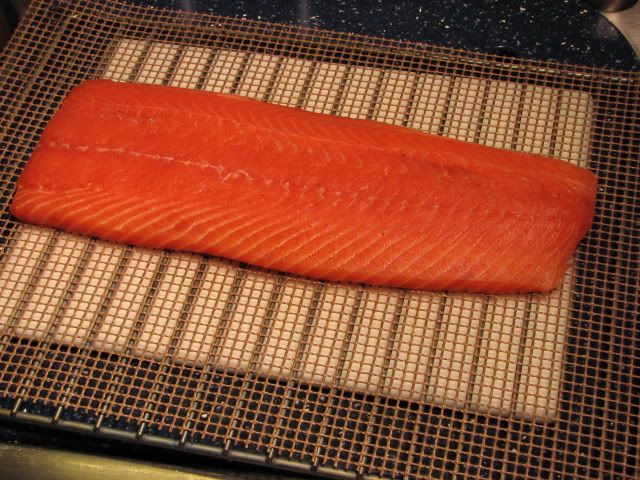 I let salmon dry for several hours then added maple syrup glaze and left if fridge to dry and set the glaze. Pull the salmon out this morning and put in smoker with a chunk of pecan wood. An hour and 45 minutes later the magic has happened and I now have kippered salmon, Andi's style: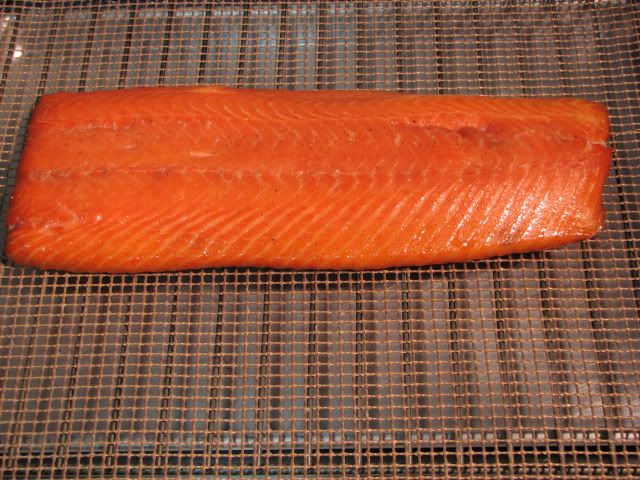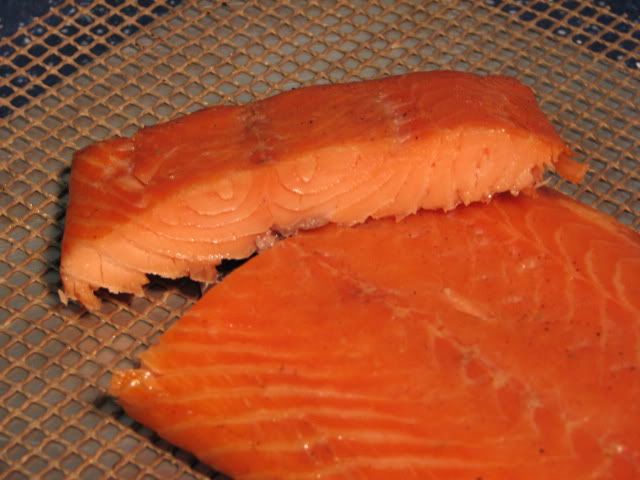 This is GOOD stuff. Had a serving for lunch and the rest off to the fridge. I plan on vacuum packaging individual servings and freezing. These are great mixed with cream cheese or mixed in with scrambled eggs; just defrost in the fridge and they are ready to go.
If anyone on the forum is in contact with Andi please pass on my thanks for this recipe!
db